Another snippet from my slowly evolving book on Coptic Christianity: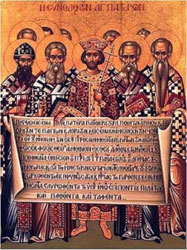 As we saw above, the very name of the Church, "Orthodox" (straight or true worship or belief) itself emphasises the importance of holding to a faith, believing that which is true and correct. Christianity is founded fundamentally on Truth. Jesus Christ Himself was recognised as "full of grace and truth" (John 1:14) and "teaching the way of God in truth" (Mark 12:14). He described Himself as "the way, the truth, and the life" (John 14:6) and promised those who follow Him the "Spirit of Truth" (John 16:13). He commands us to "worship the Father in spirit and truth" (John 4:23) and He teaches that "you shall know the truth, and the truth shall make you free" (John 8:32).
Truth should be one of the chief motivators for the Christian life. The teachings of Christ resonate with the human spirit because they have an intrinsic tone of truth to them. For example, love is the central theme in the teaching of Christ, yet even apart from that teaching, people of every age and every culture have always seemed to feel instinctively in their hearts the truth that love is the most important thing in life. Thus most people put their family above their career or popularity in importance, and might even be willing to give up their own life for those whom they love.
Yet the beauty of Christian truth is that it takes this basic human reality and extends it into areas beyond our merely human instincts. Christ taught not only basic human love, but divine love, a love that elevates the truth that love is paramount to noble and life-changing heights. For example, He taught that it is not enough to merely love our friends or relatives, but that we must also love strangers and even enemies. Here, the truth of Christ becomes counter-intuitive; it goes against the grain of human nature. And yet, it works! This kind of unconditional love, when practiced sincerely and properly, transforms not only the individual's life, but whole societies.
This truth about love was reflected, one might say, embodied, in the person and the life of Christ Himself. By becoming a human man, by dying on the cross, by rising from the dead, by all the events of His life, He showed His great love for the feeble human creatures He had created in His own image, and who had abused their free will to their own hurt and detriment. This beautiful story of love and salvation is most clearly and succinctly told in the ancient statement of Christian belief that summarises these truths about our existence and our relationship to the one who created us; the Nicene-Constantinopolitan Creed.
However, over the years, the significance of this universal Creed has evolved differently in the various branches of Christianity. I shall share with you my own rather simplified impression of this difference Continue reading "Faith or Works? Or…"