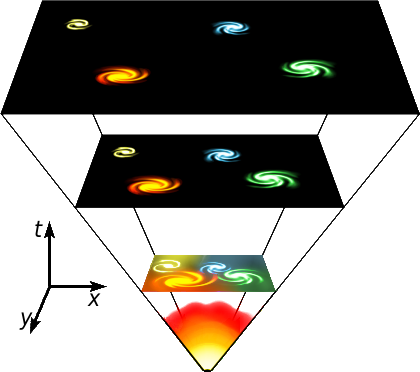 Coptic Apologetics Discussion Group is up and running for the third year, and the first two monthly topics are scientific ones. January's meeting was on the Big Bang Theory while February's meeting will look more broadly at the sometimes rocky relationship between faith and science. But how rocky does that relationship need to be? Does it need to be as difficult as some would make it to be? If you are one of those people who believe that God created the world in six 24-hour days a few thousand years ago, I must warn you: you are not going to like what I have to say.
I have to confess that although I took an interest in Young Earth Creationism for some years, I have now come to pretty much reject it wholesale. It really comes down to how you read the Bible, and how willing you are to let reality be itself rather than trying to squash it into a pre-arranged box of your own making. Such an approach can lead to ridiculous situations, such as the one Cardinal Roberto Bellarmine dug for himself in the early seventeenth century. Consider his view of the preposterous new idea that the earth might orbit around the sun rather than the other way around.
… to affirm that the sun is really fixed in the centre of the heavens and that the earth revolves very swiftly around the sun is a dangerous thing, not only irritating the theologians and philosophers, but injuring our holy faith and making the sacred scripture false.
"Injuring our faith and making the sacred scripture false"? Really? The good cardinal's words seem absurd to the modern Christian. Why in the world would he be so dogmatic? The fault lies, I think, in his mistaking his own way of interpreting scripture for the scripture itself. Even today, Young Earth Creationists fall into the same trap, insisting that if their very literal interpretation of the Bible is disproved by science, then the whole Bible becomes worthless and all of Christianity – all of it, mind you – collapses into a bottomless abyss of unreliability. Nice of them to include us in their prophetic doom.
But no, I object. Continue reading "Big Kerfuffle about the Big Bang"