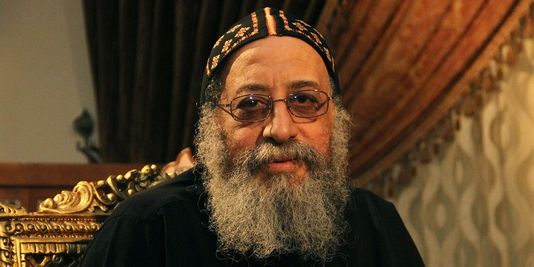 It was a truly historic moment, and one that brought hope for many reasons. The tension built as millions of Copts around the world sat glued to their screens and prayed and chanted Kyrie eleison (Lord have mercy) with those in the cathedral. I hoped fervently that it was only going to be 41 Kyrie eleisons and not 400! Anba Pachomius enjoined everyone to raise their hearts in supplication and submission, and a silent united supplication from millions around the world rose up to entreat God to choose a shepherd after His own heart for His Coptic flock. And then, a little boy named Bishoy dipped his hand into the bowl and pulled out a transparent orb. Time seemed to stretch out forever as Anba Pachomius fumbled with the seal and then unfolded the piece of paper that held the name of the poor man who is to lead the Coptic Orthodox Church into the future. After a quick peek himself, he held it up for all to see, and we had our new Pope…
"Anba Tawadros

General Bishop"
Allow me to share a few impressions at this historic moment in time. Firstly, we must appreciate how wonderfully HE Metropolitan Pachomius has carried out his duties as locum tenens since the departure of Pope Shenouda. He had to care for a bereaved Church and soothe their sorrow (whilst no doubt dealing with his own). He had to tread a careful path in a tumultuous post-revolutionary Egypt, forging good relations with the new authorities while at the same time standing up for the rights of Christians suffering persecution and crying out for a father to defend them. He had to deal with a number of major unresolved issues within the Church, any of which could easily have led to huge splits in sections of the Church. He had to run the papal elections according to an outdated yet necessary set of bylaws, negotiating the conflicting opinions about diocesan bishops and (possibly) ambitious candidates, contrary to the venerable humble spirituality of our Coptic tradition.
All this he carried out with serenity, humility, integrity and profound wisdom. I had a personal experience of this during my recent trip to Egypt concerning one of those sensitive matters, and was totally won over by His Eminence's noble and unselfish spirit of true loving fatherhood for all, regardless of their position on the issue. I felt the genuine presence of Christ in our midst. A visit to the Patriarchate headquarters was also an eye-opener for me. The place had been transformed, hauled into the twenty-first century. I am not talking about physical changes, but organisational. We were met with courtesy and grace, our needs attended to effectively and quickly, and there was an air of order and purpose. Anyone who has had to conduct any kind of business anywhere in Egypt will appreciate just how impressive this was!
And I think this will be one of the many expectations that lay before poor Anba Tawadros in the heavy burden of responsibility he is about to take up. Having served for decades with Anba Pachomius, I believe he has imbibed much of that spirit of order and integrity from him, and it is something the Coptic Church sorely needs on a more widespread basis. While many advances were made during the patriarchate of Pope Shenouda, the Church has continued to grow exponentially, its issues have continued to multiply, and the world has continued to change at breakneck speed. I was most impressed by a comment made by HG Anba Raphael in his pre-election interview, where he pointed out that the days of a one-man show in the Church are gone. We do not expect our next Pope to do everything himself – that is simply no longer possible. What we pray for is that he will assemble the right personnel and set up the right structures and procedures in the Church to allow it to run itself effectively, fulfilling its mission as the lighthouse of the Orthodox Gospel of Christ in the world. And it seems that God has chosen the best person for this difficult task.
Do not underestimate the size and complexity of this task! But perhaps even more difficult will be meeting the needs of the young in the decades to come. I have raised the question before on this blog, as to what might be the great challenges our Church will face in the future. They include apathy, atheism, materialism, self-centredness and addictions. These are all problems we are already dealing with in our community. Do not be fooled by all the nice young teenagers at the liturgy on Sunday! For every one of them, there are at least two more who should be there, but aren't, because of issues like those above. And even those standing nicely in Church are asking questions, are exploring their options and finding their way. I know – I discuss these issues regularly with them in confessions and counselling. Some sections of our Church have in the past tended to gloss over these problems, sweep them under the carpet as though it were unseemly or impolite even to bring up such a distasteful topic. We can no longer afford such a luxury, while so many of our youth drift or sprint away from their Mother the Church. We will all be looking to Anba Tawadros for inspiration and direction as we grapple with these issues.
Perhaps the two issues I have mentioned so far are more prominent for us in the Diaspora, but we must not forget the chief issue facing the majority of Copts today: the situation of Christians in Egypt. Before poor Anba Tawadros' feet lies a minefield to be negotiated, with not only his welfare at stake, but that of roughly 10-15 million Copts in Egypt. Politics is never straightforward at the best of times, and in the roiling cauldron of emotions and interests that is today's Egypt, it will surely take nothing less than truly divine wisdom to avoid the kinds of disasters we all dread. But I believe Anba Tawadros has a head start. He appears to be gifted with a calm and sensible personality and to possess diplomatic skill in abundance. He is a listener who makes people feel that they have been respected and genuinely understood, yet he still insists upon what is good and right. These are not qualities that are easily acquired – one is either born with them or not, but it seems God has blessed us with a Pope well suited to the difficult days ahead.
These are but a sample of the challenges that lay before us. Here are some more, briefly:
The role of women in Church life, meeting their need to be involved while maintaining the spiritual principles of the New Testament regarding gender roles.
The challenges of Evangelism; not only encouraging it and learning how to do it well, but also learning how to accommodate people of new cultures and ways within our Church. This needs for us all to agree on where the borders are to be drawn between negotiable culture and unnegotiable faith.
Keeping up with technology, utilising it for the service of God and protecting our flock against the temptations and deviations it can cause.
Maintaining and deepening the spiritual tradition of our monasteries and convents as they become increasingly overrun by pilgrims, lose their isolation and are influenced by technology.
Preserving the sanctity of marriage and the importance of family in a world that increasingly ignores them.
All these issues need someone who cares deeply for the Church, its Gospel, its spirituality, its history, its Orthodoxy, and its relevance to every generation. God has chosen this Shepherd!
It is also worth pointing out the beautiful spirit among the final candidates, all of whom were of the finest calibre, and any of whom would have made a wonderful Pope. Interesting to note that two of them, Anba Tawadros and Anba Raphael, were consecrated General Bishops on the same day in 1997. In fact, there were four in that little group, the others being Anba Gabriel, the brother of Papal Secretary Anba Yoannis, and our own Aussie Anba Suriel, the Bishop of Melbourne. That was a very good year for bishop consecrations!
It was so reassuring to hear the final candidates before the election committing to cooperating together in serving the Church, whoever among them might be chosen to become Pope. This is the true spirit of unselfish Christian service, the spirit that looks to serve others and pays no attention to itself or its own position. What a wonderful example for us all! I have never met Anba Raphael, but feel blessed to have had the chance to hear his thoughts during the interviews. He is a truly profound forward-thinker and I hope that the Church will benefit greatly from his input during the papacy of Anba Tawadros. And of course, Fr Raphael Ava Mina is the archetypical saintly monk of huge heart and powerful prayers. How blessed we are to have such men in our Church, and how blessed we are that our Church recognises their noble character and puts them forward to lead us into an uncertain future.
I have called Anba Tawadros a "poor man" on a number of occasions above. This is not my term, but Pope Shenouda's. Writing in his classic book, The Release of the Spirit, while he was entering the monastery to become a monk, he wrote the following words, a fitting conclusion to my ponderings:
What about our fathers the Patriarchs, each one of whom God will ask about ten million in Egypt and much more in Ethiopia, Sudan and the Five Western Cities which are mentioned in the Holy Mass…

What is to be said of those and of their serious responsibilities? Are not they also wretched? My brethren, you ought to pray for every Patriarch that he may be able to perform his duties and give a good reply to God when He asks him about his own soul and the souls of the bishops, priests, deacons, monks and laymen… and about keeping the church laws and spreading the Orthodox faith all over the world..

You also, who may be nominated to the patriarchate someday, you ought to refuse it and escape for your life.

But if you are called by God, remember its responsibilities and go into your cell and weep bitterly before God.

And you, my brothers the readers, do not look to God's ministers and to those who hold any responsibilities just like spectators praising them when they do good and condemning them when they do wrong… You rather pray for them that God's work may succeed through them..

(Chapter 19).