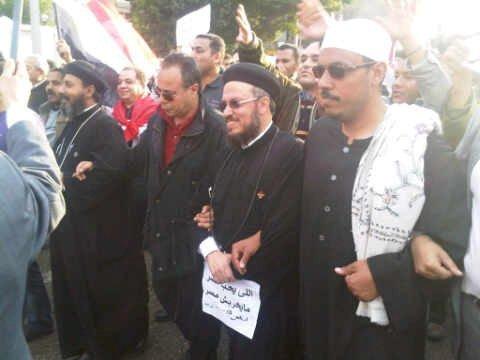 As Egypt broils with turmoil, we in Australia watch and wait and pray. Here are a couple of interesting items that have come my way:
This picture warms my heart! It was apparently taken on February 2 in Heliopolis, Cairo. Two Coptic priests are seen marching with the protestors for change in Egypt, and one of them (I think he may be Fr Dawoud Lamei?) is arm in arm with what looks like a Muslim sheikh. Isn't that the true spirit of Christianity – to stand up for truth and to love all people? If only this spirit would spread through the whole country! It is early days yet, but one cannot help wondering whether there will be a voice for the Copts in the new Egypt.
A gentleman in Cairo is sharing his journal of events he is experiencing in the comments section of this interesting article. It provides a snapshot of how the Egyptian on the street sees these historic events. Very interesting indeed.
We pray for a quick and safe resolution that results in a better, freer and more equitable Egypt.
Fr Ant
PS Another ray of light amidst the darkness – Christians showing real love towards Muslims. An article in the Daily Mail.