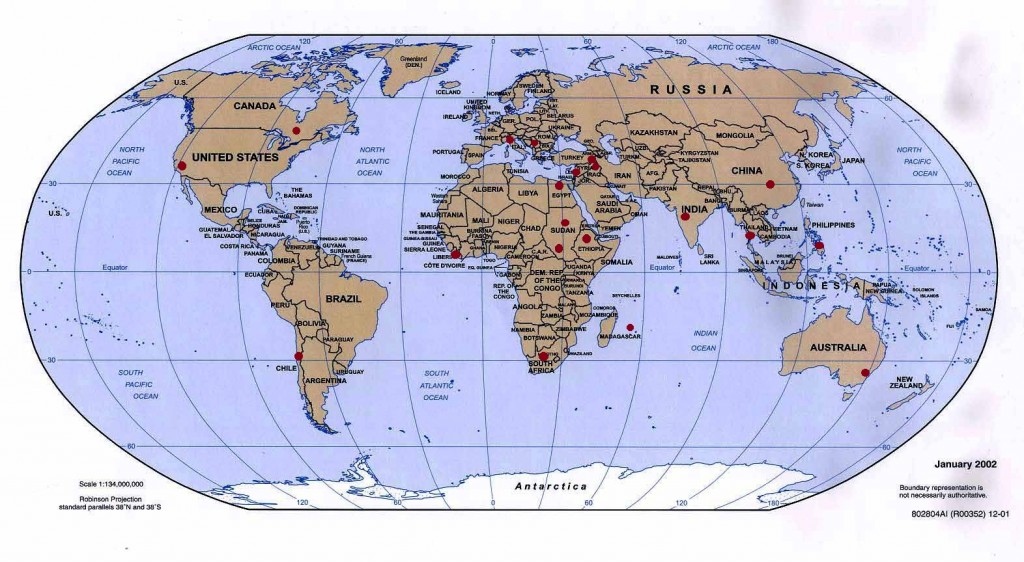 One of the nicest things about living in Australia is that you don't really have to go out and visit the world – the world comes to you. Being a multicultural society, Australians are born or trace their heritage to nearly every country in the world. Our society is enriched by a multitude of languages, accents, and forms of dress, not to mention the delicious cuisines and tastes of scores of cultures. 
Through marriage and through the blossoming Outreach Service to the neighbours at our parish, we now count as members of our Christian family people from a rich variety of backgrounds. The map shown illustrates the various countries from which members of our parish have come, and they are listed at the end of this post.
The Apostles' Fast is all about celebrating the incredible work of the Holy Spirit in spreading the Good News of Christ to all the nations. Whereas the Old Testament chosen people tended to be isolated and keep to themselves, the New Testament Christian is commanded to "Go therefore and make disciples of all the nations, baptizing them in the name of the Father and of the Son and of the Holy Spirit" (Matthew 28:19).
That is not to say that this is an easy command to carry out. One of our experiences over the years has been a certain tension between our history and our destiny. On the one hand, there is fourteen centuries of being a relatively insulated faith community that was beaten into submission by hostile Muslim suppression, so much so that we lost the desire or the skill to evangelise others. When we came to Australia, much of this mindset came with us, and we found ourselves being suspicious of 'outsiders', mistrusting their motivations and their morals. On the other hand, younger generations of Copts have been imbued with the Australian ethic of respect for others as equals regardless of their race or colour, and a desire to connect and interact with the Australian society of which we are a part.
Let's not mince words: people who have converted and been baptised into the Coptic Orthodox Church have often found it quite difficult to adjust. It is not easy to feel 'different' in a community, to be the only one, for example, with blond hair and blue eyes amidst a sea of Middle Eastern olive skin and brown eyes. It is not easy to have people around you speaking in a language you do not understand, or to be constantly afraid of doing something that might be considered inappropriate according to the prevailing culture. Many Coptic immigrants experienced this sense of alienation when they came to Australia, so of all people, we should be able to sympathise with the non-Copt who joins our Church. And just as we found kind and thoughtful Australians who went out of their way to make us feel at home here, we too should go out of our way to make everybody feel at home and welcome in our Church.
And things have indeed changed considerably over the last few years and continue to change at pace. Our Church should never be for just one ethnic group to the exclusion of others – I fail to see how that could possibly be in accord with the commands of Christ and the example of the Apostles whom we revere and honour at this time of year. Today, we open our arms and we embrace those who have joined us in the Body of Christ with joy. They bring with them new languages and customs and cuisines, and they are most welcome, for they enrich our lives, just as the entry of Christ into their lives and the ancient and profound Coptic Orthodox spirituality are to them a blessing beyond price. 
So to commemorate and mark this historic change in the nature of our Church community, below is a roll of the backgrounds of Copts who attend our parish of the Archangel Michael and St Bishoy in Mt Druitt. I apologise if I have left anyone out – please let me know. We embrace each and every one of you; you are each a precious part of our lives and fellow travellers in this world, seeking the Kingdom of God, and humbly working out our salvation together in the footsteps of the Saviour of all humanity.
Aboriginal
Armenia
Anglo Saxon
Canada
Chile
China
Czech Republic
Egypt
Ethiopia
India
Italy
Lebanon
Liberia
Mauritius
Philippines
South Africa
Southern Sudan
Sudan
Syria
Thailand
USA