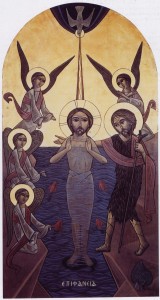 I recently came across an interesting little fact. Before I share it with you, I have to tell you that although I love anything mathematical, I am not generally a great fan of Biblical numerology; the study of mathematical patterns in the text of the Bible. However, this one is interesting…
In the Gospel accounts of the Epiphany, the baptism of Jesus by St John the Baptist, the original Greek word used for the dove that appeared above Him is "PERISTERAN". Now the evangelists tell us that this apparition of a dove was actually a manifestation of the Holy Spirit.
You may be aware that in written Greek (the original language of the New Testament), numbers do not have their own unique symbols, but are represented by the letters of the alphabet. The same is true of Coptic. Thus alpha, the first letter, represents the number one, beta, the second letter, is 'two', and so on. Once you get to ten, the next letter is twenty, then thirty, and so on to a hundred, then two hundred  etc.
Now it turns out that if you take the numerical values for all the letters that make up the Greek word "PERISTERAN" and add them up, you come to a total of 801.  What's so special about that?
Well, 801 = 800 + 1.
The number 1 written in Greek is the letter alpha, the first letter of the alphabet. Care to guess what letter represents the number 800?
Omega, of course, the last letter of the Greek alphabet. I quote for you two verses from the Book of Revelation and leave you to put the rest together for yourself:
The Father Said:
Rev 1:8 "I am the Alpha and the Omega, the Beginning and the End," says the Lord, "who is and who was and who is to come, the Almighty."
And the Son said:
Rev 1:11 "I am the Alpha and the Omega, the First and the Last,"
And the Holy Spirit didn't need to say anything…
Fr Ant